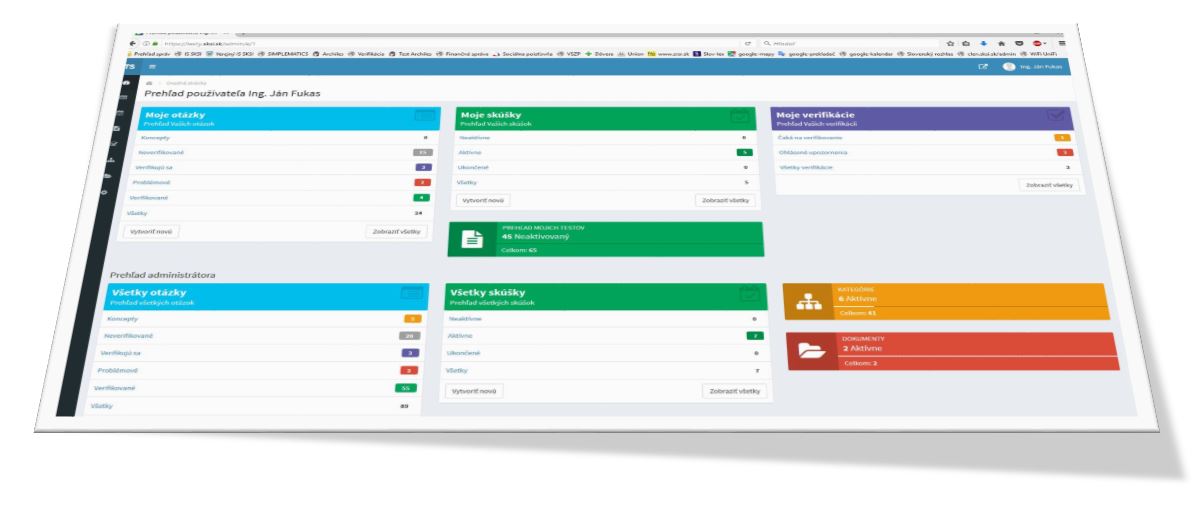 Electronic training or test is a challenge for everybody. It is a useful tool, which bears the seal of an impersonal justice and forces its creators to reveal unexpected links in a familiar content. Every completion of an electronic training or a test is independent from its maker as well as from the person who completes it, because in its linearity, it ignores the other human links of both participants of this interaction and mirrors only its immediate result. Written and electronic test can often be one of the parts of the final evaluation of acquired and gained knowledge. They are the two sides of the same coin where the creator of the training and test on one side takes the responsibility for the level of the education and evaluation of the knowledge. On the other side, there is the person who completes the test, who takes the responsibility for their own level of acquired knowledge and the success rate of completing each training or test.
This part of the portal is made mainly for training and test creators. This proces can be entered on three levels:
> As a creator of questions. This level is the cornerstone of every coherent training or test. Creating a good question is one of the most difficult processes where you have to combine creativity, teaching methods and most importantly, be focused on the goals that should be achieved by the correct answer to the question
> As a person who verifies the questions. This level is here to ensure the impartiality and minimize the error rate of created questions. Quality-wise, It is a higher level of creating questions which should be used not only in your own trainings and tests, but also on a general level. Verifying questions is a form of feedback for the creators of questions.
> As a creator of trainings or tests. This level is communicated through the portal towards people who complete the trainings and tests. It is a compromise, where the combination of the technological solution of assigned software parameters, creativity of the questions and their verification create useful trainings or tests to verify the acquired knowledge.
All three levels are not perceived on the level of an individual but also on the level of the institution. The creator of the question, the person who verifies the question or the creator of a training or a test does not have to be an individual, it can also be a group of people (a board) or in the sense of collective responsibility, it can be even an educational institution.
We believe that this part of the portal can help you with creating interesting trainings and test which will push the face of e-learning to the 21st century level.